Melina Harrer

(English text below)
wurde in Wien, in eine Künstlerfamilie, geboren.
Melina unterrichtet an der Amadeus International School Vienna.

Melina begann ihr Violinstudium in Wien bei Ulf Wallin. Im Alter von neuen Jahren wurde sie in den Vorbereitungslehrgang an der Universität für Musik und darstellende Kunst Wien in die Klasse von Dora Schwarzberg (Assistenten: Marina Sorokowa und Leonid Sorokow) aufgenommen. Sie schloss den ersten Studienabschnitt mit ausgezeichnetem Erfolg ab. Danach setzte sie ihr Studium an der Franz-Lizst-Musikakademie in Budapest bei András Kiss fort. Ihren akademischen Grad (Magistra artium) und das Konzertfachdiplom erhielt Melina an der Universität für Musik und darstellende Kunst Wien in der Klasse von Gerhard Schulz. Anschließend studierte sie zwei Semester postgradual bei Matheos Kariolou an der Anton Bruckner Privatuniversität Linz. Wichtige Impulse erhielt sie auch von Tibor Varga, Pierre Amoyal, Maxim Vengerov, Ivry Gitlis, Barbara Gorzynska, Erich Grünberg, Shmuel Ashkenasi und Charles Castleman.
Sie debütierte im Alter von zwölf Jahren als Solistin im Rahmen einer Konzerttournee des nationalen Jugendorchesters Zyperns. Die Konzertreise führte nach Athen, Patras, Nicosia und Limassol. Zwei Jahre später konzertierte sie als Solistin mit dem Orchester der Budapester Staatsoper im Rahmen der Grafenegger Schlosskonzerte. Gemeinsam mit dem Konzertmeister des Orchesters spielte sie das Konzert für zwei Violinen von J. S. Bach.
Ihre Karriere führte Melina bisher nach Italien, Deutschland, Ungarn, Frankreich, Großbritannien, Kroatien, Griechenland, Zypern, China, Turkmenistan, Japan und in die Türkei.
Sie gewann mehrere erste und zweite Preise, darunter auch einen Sonderpreis bei Prima la Musica Wettbewerben, sowie einen ersten Preis beim Concorso Internazionale di Musica Città di Stresa, in Italien. Sie war Preisträgerin beim internationalen Kammermusik Wettbewerb Giulio Viozzi in Triest. 1997 holte sie den ersten Preis beim Wettbewerb des Wiener Musikgymnasiums. 1998 war sie Stipendiatin der Feiling-Stiftung. Sie wurde in das Projekt Live Music Now der Yehudi Menuhin Stiftung aufgenommen. 2003 erhielt sie ein Stipendium für hervorragende Leistungen an der der Universität für Musik und darstellende Kunst Wien.
Neben der solistischen Tätigkeit widmet sie sich der Kammermusik, dem Orchesterspiel und dem Unterrichten. Sie war Konzertmeisterin im Webern Symphonieorchester in Wien und Ljubiljana.
Seit ihrem Studium erteilt Melina regelmäßig Violinunterricht. 2004 erlernte sie die Methode der musikalischen Früherziehung Little Piano School nach der Pädagogin Kim Monika Wright. Der spielerische Unterrichtsaufbau dieser Methode ist besonders geeignet für Kleinkinder ab 18 Monaten. und unterrichtete an der gleichnamigen Schule in Wien. An der Universität vertiefte sie sich in die Wissenschaft des Instrumentalunterrichts.
In ihrer Diplomarbeit mit dem Titel Leopold Auer und seine Violinschule befasst sich Melina mit Ursprüngen, Entwicklung und Unterschieden gängiger Violinschulen. Der Schwerpunkt liegt auf der Entwicklung der franco-belgischen Geigenschule.
Von 2013 bis 2018 unterrichtete Melina Harrer im Musical Talent Development Program, dem ersten staatlich gegründeten Programm zur Förderung junger, talentierter Streicher Zyperns, unterstützt durch die Mentoren Martha Argerich und Ivry Gitlis. Innerhalb des Musical Talent Development Program spezialisierte sich Melina auf das Unterrichten von Anfängern im Kleinkindalter. 2016 erhielt eine ihrer SchülerInnen den ersten Preis der 6. Internationalen Talente Rundschau des Wettbewerbs zu Ehren des Violinvirtuosen Vasa Přihoda, Neue Europäische Talente im Fach Violine, in Budweis, Tschechien. 2017 war sie Gastdozentin beim internationalen Orchestercamp Camp Styria in Schladming, Österreich.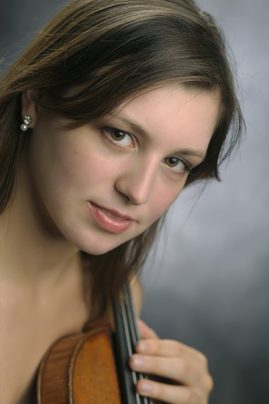 Melina Harrer
was born in Vienna into a family of musicians.
Melina is currently teaching at the Amadeus International School Vienna.

Melina Harrer started violin lessons in Vienna with Ulf Wallin. At the age of nine she was accepted to the preparatory class for talented children under the Russian professor Dora Schwarzberg (assistant teachers: Marina Sorokova and Leonid Sorokov), at the University of Music and Performing arts, Vienna (Austria). At fifteen she enrolled at the same institution as a regular student, from where she graduated as a soloist, with distinction, in 2002.
She then studied for one year with Andras Kiss at the Franz Liszt Academy in Budapest (Hungary) and in 2007 she completed her second soloist degree back at the University of Music and Performing arts, Vienna in the class of Gerhard Schulz. Melina also completed postgraduate studies with Matheos Kariolou, at the Anton Bruckner Private University for Music, Drama and Dance in Linz (Austria). She participated in master classes of Tibor Varga, Barbara Gorzynska, Pierre Amoyal, Maxim Vengerov, Ivry Gitlis, Shmuel Ashkenasi, Charles Castleman and Erich Gruenberg.

She gave her debut as a soloist at the age of twelve in a series of concerts of the Cyprus State Youth Orchestra in Cyprus and Greece. Two years later Melina performed as a soloist with the Budapest Philharmonic Orchestra at the Grafenegger Schlosskonzerte. She played the concerto for two violins by J. S. Bach together with the concertmaster of the orchestra.

Melina Harrer has won prizes at the Austrian national competitions Prima la Musica in Vienna, Eisenstadt and Innsbruck. 1996 she also won a first prize at the International Competition Concorso Internazionale di Musica Città di Stresa, in Italy. In 1998 she was awarded the first prize at the competition of the Vienna Music Gymnasium. In the same year she received an Austrian State Scholarship and won a prize in the category violin-piano duet at the International Giulio Viozzi Chamber Music Competition in Triest. In 2002 she was selected by the Yehudi Menuhin Foundation to be amongst the artists supported through participation in the programme Music Live Now.
Melina Harrer has performed in Austria, Italy, Germany, Hungary, Great Britain, France, Greece, Turkey, Yugoslavia, Cyprus, Turkmenistan China and Japan.
She was concertmaster of the Anton Weber Orchestra Vienna, and the internationally constituted Cyprus Youth Symphony Orchestra at the opening concerts of the International Kypria festivals 2007 and 2008.
Melina started teaching while she was still studying and has been teaching ever since. In 2004 she completed a series of seminars on the Little Piano School method by Kim Monica Wright. The method involves playful techniques and is particularly successful at theaching early musical education to toddlers form the age of 18 months. Melina obtained a certificate from Kim Monica Wright, which qualified her to work at the Little Piano School in Vienna.
In her scientific paper by the name of Leopold Auer und seine Violinschule with which she received the tiltle of Magistra artium, she concerns herself with origin, development and differences of the most common violin schools, with main emphasis on the Franco-Belgian school of technique.
From 2013 until 2018 Melina held an assistant violin teacher position at the Musical Talent Development Program in Cyprus, where she specialized in teaching beginners from an early age. In June of 2016 one of her pupils won a first prize at the 6th International Festival of Talents/International Violin Competition Váša Přihoda in Budějovice, Czech Republic. 2017 Harrer was a guest lecturer at the international orchestra camp Camp Styria in Schladming, Austria.